Immune Regulation & Support
Cardiovascular System Support
Promotes Healthy Bones, Teeth
Dairy-Free
Non-GMO
Soy-Free
Bio-Design's Vitamin D3 5,000 PLUS supplies 5,000 IU of vitamin D-3, and 100 mcg of Natural Vitamin K2 (MK-7).
The addition of Vitamin K2 (MK-7) to Vitamin D3 5000 Plus, supports arterial flexibility and vessel health while directing calcium from the bloodstream to bone mass, where it is needed most!
Vitamin D3, known as the sunshine vitamin, supports; immunity, cardiovascular health, bone and teeth, mood balance, and blood sugar levels. Unfortunately, low Vitamin D levels are common today. Vitamin D3 5000 Plus can support restoring healthy levels.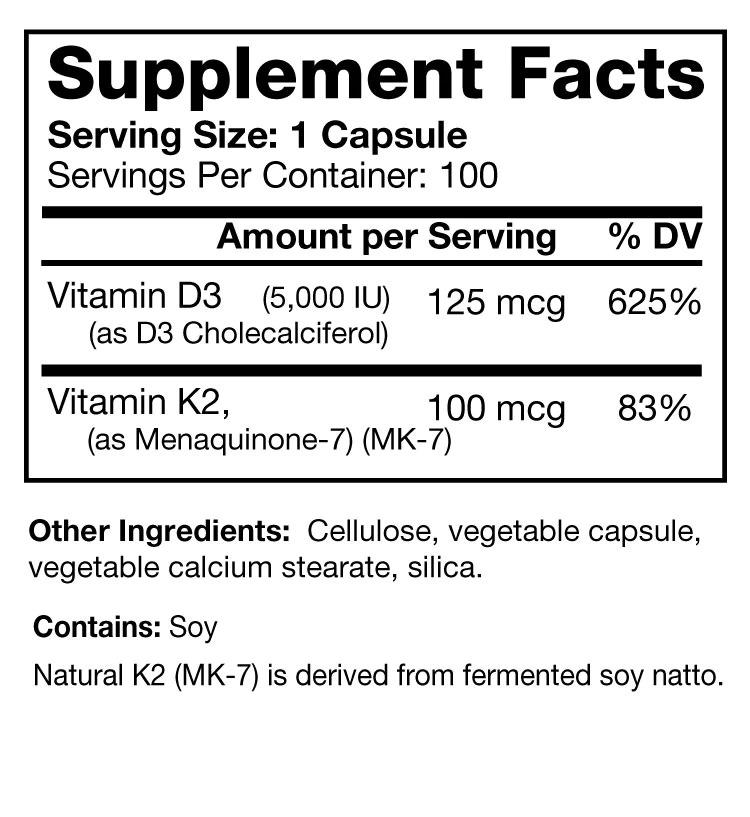 For adults only. Take 1 capsule daily or as directed by your healthcare professional.
WARNING: K2 (MK-7) may interfere with anticoagulant medication ie Coumadin (warfarins). Consult with your healthcare professional before taking if you are pregnant, nursing, have a medical condition, or are taking prescription medication.